From The Huffington Post  | By Rebecca Klein – Posted:  
Early last month, Barack Obama made his first visit as president to Indian Country, where he announced plans to revamp the Bureau of Indian Education (BIE) in an effort to improve the agency's federally funded Native American schools. Acknowledging a "crisis" in Native American education, Obama proposed giving local tribes more control over education so that "you can direct your children's education and reform schools here in Indian Country."
As it stands, the BIE, an agency within the U.S. Department of the Interior, directly operates 57 schools for Native American students and supervises 126 tribally controlled schools. The BIE schools educate less than 10 percent of Native American and Alaska Native students in the country, but these students tend to perform substantially worse than Native students in regular public schools and public school students in general.
Still, the performance of Native students in regular public schools is no cause for celebration, either. When taken together, Native students in BIE schools and regular public schools are some of the lowest-performing students in the country.
Below we have compiled a series of charts outlining the state of education for Native students around the country in all types of public schools.
1. Native American Students Have The Lowest High School Graduation Rates In The Country
While the latest data available showed American high school graduation rates soaring to a historical high during the 2011-12 school year, Native students had the lowest four-year high school graduation rate out of any racial or ethnic group profiled by the government.
2. In Recent Years, Their Average ACT Scores Have Declined Substantially…
The image below, from the ACT, shows that while ACT scores declined across the board in 2013, they declined more for Native students. In fact, while scores for other groups of students have generally hovered around the same point for the past few years, Native students' scores have been on the decline since 2010.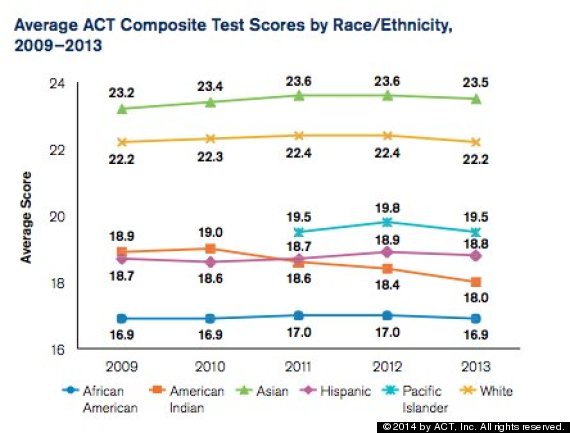 © 2014 by ACT, Inc. All rights reserved.
…And Their SAT Scores Are Substantially Lower Than White Students' Scores
The mean SAT score for Native students was more than 100 points lower than that of white students in 2013, according to data from The College Board.
3. Native Students Have Less Access To High-Level High School Courses
According to a 2013 report from education advocacy group The Education Trust, the schools attended by Native students tend to offer less Advanced Placement courses.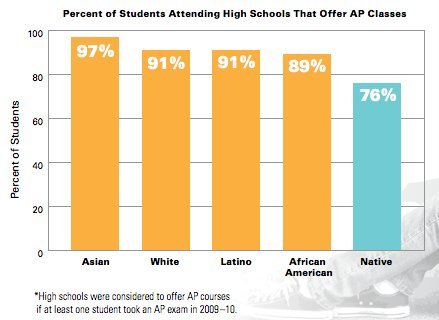 4. Most Are Not Proficient In Reading Or Math By Eighth Grade
The most recent results from the National Assessment of Educational Progress show that eighth-grade Native students tend to have only basic skills in reading and math. Additionally, unlike other student groups, Native students have barely improved on the reading portion of the NAEP test over the last 10 years.
The charts below, pulled from the NAEP website, show the results: